So, hopefully, by now, you are aware of the amazing quality and living experience that you can expect from a modern manufactured home. However, you might be wondering, among all the great homes out there right now, which ones are the best and worst manufactured homes?
We want to weigh in on the matter by giving you a look at some of our personal favorites from the last couple of years.
Qualities and standards have come a long way
The Manufactured Home Construction and Safety Standards Act of 1976 has gone some way to standardize the materials, construction methods, and quality of homes. This gives you a certain peace of mind when it comes to the quality you can expect from a certified HUD manufacturer. It also means that personal choice (something that used to be a luxury) plays an increasingly prominent role in buyers' decision making.
Now, we could point fingers at what we would consider "bad" manufactured home models or brands. But instead, we will give you a few unbreakable rules that you should not make the mistake of breaking when looking at manufactured homes.
If you want to know how to find the best mobile home for your family, we've written a guide on that here.
What Makes a Great Manufactured Home?
HUD licensed Manufacturer:

The Manufactured Housing Construction and Safety Standards is a federally mandated document that prescribes the construction standards that all manufactured housing today needs to be built according to. This is undoubtedly the first thing to look for in any home, even if it should be expected in this day and age. This will also affect your likelihood to qualify for financing.
Customer Feedback:

Let's face it, a manufacturer can use all the flowery language, flattering images, and big words in the world to sell a home. But that doesn't necessarily mean that it will translate into real-life experience. You should always look at the track record for a model by searching for firsthand accounts from previous owners. Consider the brand as well while you're at it.
Awards:

To help celebrate excellence within the manufactured home industry, the Manufactured Housing Institute now has a yearly awards ceremony. The Oscars of the Manufactured Housing world, if you will. Award-winning homes are almost guaranteed to not disappoint. Also, look for manufacturers that regularly feature like "Champion Homes", "Clayton Homes" or "Commodore Homes".
Build-quality:

Although the HUD Code ensures at least a passing degree of quality, all manufactured homes definitely are not created equal. However, your price point can also play a role. Some manufacturers consciously make less high-end models with cash-strapped consumers in mind. To point out, you should check the materials used for the flooring, wall panels, ceilings, skirting, window and door frames, etc. making sure they are up to scratch.
Style:

When you hear manufactured homes, you might still form a mental picture of box-like, white, plain, and completely identical houses. This has not been the case for some time now. Manufactured homes now sport a wide variety of designs, color schemes, styles, etc. We look for homes with a bit of flair that has something unique to bring to the table.
The Best and Worst Manufactured Homes
The Best Manufactured Homes
The HillCrest IV – Champion Homes
Champion Homes is indeed appropriately named. They are consistently one of the top manufacturers of manufactured housing as you can see by their multiple inclusions on this list. The HillCrest IV was the winner of the New Manufactured Home Design for models over 1800 sq. ft. award by the Manufactured Housing Institute in 2016. And, it is still one of the best around.
This home is a 2281 sq. ft. double-wide which puts it in the largest bracket of manufactured houses. The basic floor plan offers 4 bedrooms (1 master), 2 bathrooms, open-plan living room/kitchen, family room, and pantry. This makes it an ideal family home.
As almost all Champion Homes models, it comes with a few nifty customization options out of the box. You can include an entertainment system or fireplace in the living room, swap the family room for an extra bedroom, upgrade the kitchen, and swap the foyer for a foyer with a credenza or half bathroom.
The floorplan of the home is in sync with the times and very modern. The chosen interior colors are also understated and elegant. They consist mostly of soft, off-white, tones of light brown, and hints of dark mahogany or black.
The only small critique we have is that the exterior is slightly uninspiring. It's quite a long home which falls a bit into the manufactured housing stereotype. However, you can expect the superior building quality of all Champions Homes houses.
Get A Free Quote for Manufactured Home Insurance
*Save $250 per year, on average!
Astro Single Section – Commodore Pennsylvania (1A135A)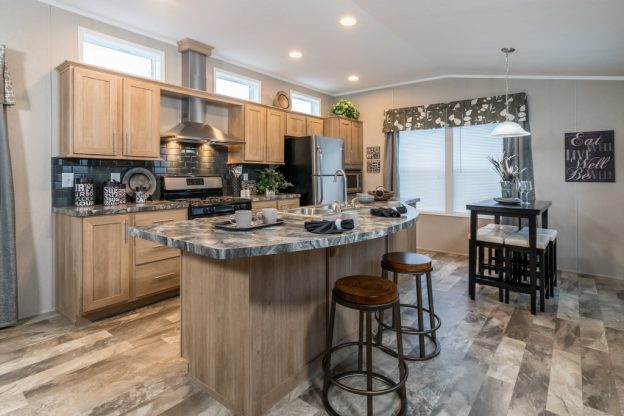 Another one of the most popular brands in the manufactured housing industry. We had to include at least one Commodore manufactured home. The award-winning Astro comes from their Pennsylvania division. It won the 2017 Manufactured Housing Institute award for Manufactured Home Design in the Single-Section category.
It's a single-wide home with the dimensions of 15 by 76 ft for a total living space of 1140 sq. ft. The standard floor plan (from one side to the other) consists of a:
master bedroom with bathroom

foyer and bedroom

bathroom

living room/kitchen combination
and another bedroom.
Upgrades specific to the Astro include a beautiful clerestory ceiling as well as a glamour bath for the master bedroom. You can also choose from a wide range of other standard Commodore options like additions, attic space, cabinetry, doors, etc.
The interior feels very natural as it's filled with soft, earthy colors and plenty of wood. The Georgetown Oak Cabinets, black brick-face kitchen walls, and the marble-like laminate countertops make for what feels like a designer kitchen.
This home is perfect for a small, growing family. Although it's a little strange that the kitchen and living space are at the opposite end from the master bedroom, it's a common enough compromise to make when it comes to the limitations of a single-wide floor plan.
Adventure Mohave Series 4643P – Adventure Homes
Adventure homes is a lesser well-known manufactured home supplier. However, they have earned the right to be counted among the best. Especially if you look at their recent performance at the Manufactured Housing Institute's yearly awards. Although we singled out the 4643P, you could technically take a look at their entire Mohave series.
Adventure Homes categorize their homes in series with a consistent look and feel. And that has multiple floor plans within that series. The 4643P is a 1700 sq. ft. manufactured home which makes it a pretty standard sized double-wide. The floor plan consists of a:
master bedroom

foyer

big living area

kitchen/dining room

utility room
and two other bedrooms with a shared bathroom.
You can opt to install an attic space, a pressed porch, and a glamour bath. The attic stairs will lead up from the living room. It's a full-height attic storage space that encompasses the whole area of the house. Mohave also pride themselves on building a lot of their own features at their plants. So you should have some unique elements in your home.
The Mohave series has a distinctly western feel. The interiors are filled with warm and earthy browns, and other colors we would associate with a country home. Some might find this a little old school, but it has an outdoorsy, homey feel that we love. The kitchen also feels custom made with cascading cabinets, black granite countertops, and a fantastic overall look.
BONUS: The Vista – Champion Homes
We wanted to include the Vista for something a little different. This home really helps stretch your perception of what's possible (and available) when it comes to manufactured housing. It also stresses how far manufactured housing has come in its own right to warrant the creation of homes like this.
The Vista falls in the category of "tiny" homes. This micro-home is only 480 sq. ft. However, in this case, less is more. These types of homes have gained traction recently for providing those with a practical and minimalist mindsight a beautiful home. You just have to look at the Vista to see that it has something special to offer.
The floor plan consists of a/an:
master bedroom

single bathroom

open-plan kitchenette and living room
and a porch with stairs that leads to a second story balcony! Who could've thought that you would have your own eagle's nest in a 480 sq. ft. manufactured home? What we would give to sit on that deck and drink a few sunset cocktails…
The home almost futuristic with only the wall panels giving it away as being manufactured. We love the exterior profile of a slanting roof on the one side, then the small raised kitchen area and then the porch/balcony on the other end.
The interior is also nothing to scoff at. It feels surprisingly big and airy for such a tiny living space. The space-management and ergonomic design of this home are truly off the charts. A mostly white interior with dashes of soft pastel colors cements it as a fantastic example of modern minimalist design.
The Worst Manufactured Homes
Worst Manufactured Home #1: The Pre-1976 Built Home
Manufactured housing has come a long way since the 1976 introduction of the HUD code. However, some of the stereotypes and negative perceptions of this era still haunt the modern industry. Homes built before this time weren't nearly as safe. Especially against fires. Nor did they provide nearly the same quality of living. For the most part, they had very little to offer in terms of design.
Although you might be able to score a deal purchasing a much older mobile home, as they were called before 1976, you will be getting exactly what you pay for. When the quality of life and safety of you and your family are at stake, it's best to put down the extra cash. Definitely better to be safe than sorry.
Worst Manufactured Home #2: Non-HUD Compliant Manufactured Home
In this day and age, there is really no excuse left to manufacture or buy non-HUD compliant manufactured housing. You can rest assured that all prominent manufacturers today are HUD compliant. However, there is still the odd sneaky local businesses trying to pull a fast one over potential buyers.
Always check the credentials of a model and its manufacturer. Also, look for the HUD plate (a red plate with white text) somewhere on the model before you make any decisions. A second-hand home may also lose HUD compliance over some sloppy home remodeling, illegal additions or the fact that it has been moved twice during its lifespan. This significantly damages the value of the home, puts its integrity into question, and makes it virtually impossible to finance.
Worst Manufactured Home #3: A Home That's Not You
As we mentioned in the intro, the leap forward in quality and standards used within the manufactured housing industry has brought us to a point where you can take your personal taste into account when looking for a home. While that doesn't mean you shouldn't do your due diligence and research when it comes to homes, it does mean you can afford yourself the luxury of choosing a home that puts a smile on your face.
Additionally, it has led to an eruption of innovation. As a mobile home buyer today, you have an unprecedented number of options when it comes to floor plans, color schemes, and sizes. Although the architectural styles of manufactured homes aren't quite as varied (look to modular homes for more of this), you can still choose from features like pitched roofs, roofed decks, etc.
So, which home did you like best?
Well, that's our two cents on the best and worst manufactured homes. In this list, we looked at consumer-focused homes that are commonly available. If you want to take a look at high-end models, check out these multi-million dollar mobile homes in Paradise Cove, Malibu.
And before you buy, be sure to read The Complete Guide to Buying a Manufactured Home.